COMING JULY 3, 2012!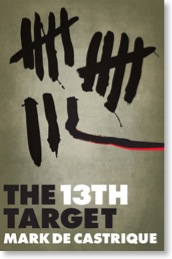 CLICK HERE FOR A VIDEO PREVIEW
"Taut political thriller … Plenty of action, convincing color" - PUBLISHERS WEEKLY

In an age of Wall Street meltdowns and downgrading of the U.S. credit rating, the secretive Federal Reserve has a pivotal role. Is its work the stuff of thrillers? Read on…

When his wife dies of ovarian cancer, Russell Mullins quits the Secret Service to repurpose his life. He joins a Washington D.C. private protection company and is assigned to guard Paul Luguire, a Federal Reserve executive and its chief liaison with the U.S. Treasury.

Mullins and Luguire form a strong friendship, know each other's habits. So when a police detective calls in the middle of the night with word of Luguire's suicide, Mullins doesn't buy it. His doubts are reinforced by a secret meet set up by Amanda Church, a former Secret Service colleague now in the Federal Reserve's cyber-security unit. She has uncovered a suspicious financial transaction initiated by Luguire only days before his death, an act totally out of character.

There's more: Amanda has found the transaction has been erased from Federal Reserve records. The regional Virginia bank now shows the money was wired from an offshore account in the name of Russell Mullins. Someone is setting Rusty up. And when the bank president is murdered, Mullins rockets to the top of the suspect list.

As a tenacious reporter develops leads, Mullins follows a conspiratorial trail of killing and kidnapping that leads from a shadowy mastermind to the possible destruction of America's financial system.

Twelve targets are known. The clock is ticking. What, or who, is the thirteenth?